eHeritage – Expanding the Research and Innovation Capacity in Cultural Heritage Virtual Reality Applications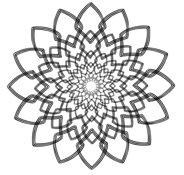 M. Gams, A. Tavčar, d. Kužnar
The preservation of a nation's cultural heritage is an imperative effort that each generation must uphold. With the advancements in the field of virtual reality, intelligent systems, and AI methods, we can now ascend to modern cultural heritage preservation techniques. Using augmented and virtual reality, 3D immersive graphics, intelligent GUIs people can now restore, reproduce, and experience the sight of historical sites in new more interactive and informative ways. eHeritage is a Horizon 2020 Twinning project, where the Department of Intelligent Systems and the TECIP Institute PERCRO Laboratory provide support to increase the capacity, quality, and extent of the research and innovation capability of the Virtual Reality and Robotics Department (VRRD), University of Brasov.
The specific challenges of the eHeritage project are:
– Achieving scientific excellence in a specific research area. Combining the research experience and knowledge of all partners, each institution will broaden their research area and enhance its R&I capacity.
– Raising staff's research profile by supporting their training and transfer of know-how in the designated scientific area.
– Effectively exploiting and disseminating knowledge. Partners will follow a defined exploitation and dissemination plan, aimed to present the knowledge and technology insights gained during the project, targeting publications in high-profile journals, conferences, and future R&D project proposals.
Commodity12 – COntinuous Multi-parametric and Multi-layered analysis Of DIabetes TYpe 1 & 2
M. Luštrek, V. Mirchevska, B. Cvetković, S. Kozina
COMMODITY12 aims at improving the daily management of diabetes and the prevention/management of its cardiovascular co-morbidities. A multi-layer multi-parametric infrastructure is being developed which monitors the patient's physiological signals and lifestyle, and analyzes patient's data to produce indicators to doctors concerning diabetes and its cardiovascular co-morbidities.
The Ambient Intelligence Group contributes to the project by developing methods for monitoring the patient's lifestyle: recognition of patient's elementary activity (e.g. walking, sitting, lying), estimation of patient's energy expenditure and recognition of his/her main daily activity groups (e.g. work, exercise, rest). The reasoning is based on data obtained from an accelerometer placed on the patient's chest and/or from sensors integrated in a smart phone worn by the user.
view site
Fit4Work
link
M. Luštrek, R. Piltaver, B. Cvetković, M. Gjoreski
The Fit4Work project aims at delivering an innovative system capable of detecting, monitoring and countering physical and psychological stress related to occupation of older adults. The project will extend off-the-shelf technologies (3D motion sensing, wearable wellness sensors, ambient sensors, and mobile devices) with specialized components able to analyse physical and mental fitness in order to provide personalized recommendations and exercises. The resulting product will be a coupling of unobtrusive devices and services that make it possible to continuously monitor self at work and manage own fitness thanks to motivating training scheme. The goal is to increase users' quality of lives and health-related fitness.
JSI will develop algorithms based on machine learning and expert rules that will analyse and interpret the sensor data about the user's physical and mental fitness: the type and amount of physical activity and the level of stress will be inferred and suitability of workplace ambient conditions will be evaluated. In addition, a decision support system combining results of the data analysis with user's health record and expert knowledge (ontological knowledge base) will be developed in order to recommend the type and time of exercises and appropriate actions such as: setting proper workplace conditions (e.g., light level, chair and computer screen placement) and taking additional measurements (e.g., blood pressure).

e-Gibalec – Mobile application to monitor and promote exercise in schoolchildren for more effective physical education
link
M. Luštrek, B. Cvetković, V. Janko
The goal of physical education is to develop motor skills and to cultivate the habit of being physically active during leisure time throughout life. However, physical abilities of schoolchildren have worsened significantly during the past 20 years. In the interest of public health and wellbeing, this trend should be reversed. The e-Gibalec project is developing a mobile application that will use smartphone sensors and intelligent computer methods to monitor the movement of children. Gamification techniques will then be used to encourage them to be physically more active. The application will also involve parents and physical-education teachers. The teachers will have access to the data collected by the application and will be able to use it for more effective physical education. The application will be tested in multiple primary schools. The long-term goal is to introduce it to all interested primary and secondary schools.
HeartMan

M. Luštrek, B. Cvetković, R. Blatnik, M. Freser
Congestive heart failure is the most frequent cause of hospitalization in people aged over 65. Its management involves medications, monitoring of fluid intake and weight, exercise and lifestyle modifications, which most patients find very difficult. The HeartMan project will help them by developing an mHealth solution using state-of-the-art wearables. Its core will be a decision support system (DSS) that will provide personalised advice. The DSS will partially base its advice on evidence-based predictive models. One of these models has been developed in our previous project Chiron, and can predict how a patient will feel based on telemonitoring data. Another key feature of the DSS will be the delivery of the advice through a cognitive behavioural therapy based on cognitive dissonance. This is a proven approach that exploits the dissonance between healthy attitudes and unhealthy behaviours to improve the behaviours. It will be augmented by mindfulness exercises, which are expected to make the patients more receptive to the HeartMan's advice. In developing the HeartMan system, a human-centred approach will be used. The resulting system will be validated in two trials, which will test its medical effectiveness and usability.
Our department had the leading role in conceiving the project and is now coordinating it. We are also in charge of developing the DSS, and we will develop some of the intelligent methods for the interpretation of sensor data from the wearables.
CrowdHEALTH (Horizon2020 project)
M. Luštrek, A. Gradišek
The aim of the project is to create Holistic Health Records (HHR) which are structured health records that include several types of patient's medical and other health-related data, including lifestyle data and data collected by medical devices or sensors. These records will allow us to develop innovative data-driven analytical tools for supporting policy makers develop healthcare policies.
Slovenian partners (JSI, together with Faculty of Sports and National Institute of Public Health) will focus on the SloFIT data, which encompasses the information about physical fitness of elementary and high school students.
Link: http://crowdhealth.eu/
Metis – System for early detection of learning difficulties
link
D. Kužnar, M. Gams
In Metis project we are developing a new system to upgrade an existing educational process that will radically improve the early detection of pupils learning difficulties. Metis uses artificial intelligence and machine learning algorithms based on indicators of educational success to identify pupils with an increased risk of developing learning difficulties, which are then referred to a education professional , which will on the basis of individual consultations with pupil construct an action plan with appropriate measures to improve the pupil's success. The action plan program can be followed with smart phone application, which will also serves as an interface for transmitting reminders, praise progress and achievements of the objectives of the action plan. The system will be deployed at three institutions within the project, with aim to introduce it to any interested primary, secondary or tertiary school.




IN LIFE – INdependent LIving support Functions for the Elderly-inLIFE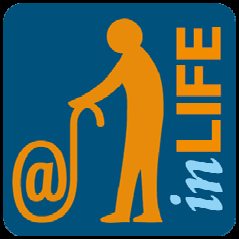 link
link [SLO]
M. Gams, H. Gjoreski, J. Bizjak

IN LIFE is a 36-month EU-funded project, bringing together leading experts of design and urban integration, transport operation and business, with local and regional authorities and end-users organizations, which represent the economic, demographic and territorial diversity of Europe.
The number of elderly living with cognitive impairment is growing rapidly due to increasing life expectancy. The percentage of those who live alone depends upon the condition (i.e. roughly 30% of those diagnosed with dementia) but the majority would like to live in their own home or with family, provided that it is safe, comfortable, and cost effective. IN LIFE aims to prolong and support independent living for elderly with cognitive impairments, through interoperable, open, personalised and seamless ICT services that support home activities, communication, health maintenance, travel, mobility and socialization, with novel, scalable and viable business models, based on feedback from large-scale, multi-country pilots. Building on existing knowledge and tested AAL technology/services IN LIFE will offer 19 different services, which will be further optimised and adapted to the particular needs and wants of various elderly groups, including mild cognitive impairment (MCI), early dementia and cognitive impairment with co morbid conditions, plus formal and informal caregivers. These interoperable services will be integrated into an open, cloud- based, reference architecture to be tested in 6 Europe-wide pilots in Greece, Netherlands, Slovenia, Spain, Sweden, and UK, with over 1200 elderly with cognitive impairments, 600 formal and informal caregivers, and 60 other stakeholders. Attention will be paid to issues concerning multilingual and multicultural environments. The project will establish and extensively test new business models for a new taxonomy of elderly with cognitive impairments, encompassing those that are clustered as "dependent", "at risk", "assisted" or "active" and formulating and accessing new business scenarios, such as the "user-centric", "service provider-centric" and "data exploitation-centric" ones.
Adaptive Predictive Analytics and Decisioning Engine in Cloud
B. Kaluža
Separating decision-making from application process logic is often beneficial. This project studies how to design adaptive domain models based on Software as a Service (SaaS) paradigm, which can be laveraged in applications on demand.
ACCUS – Adaptive Cooperative Control in Urban (sub) Systems
B. Kaluža, J. Zupančič, D. Kužnar, E. Dovgan, A. Tavčar, M. Gams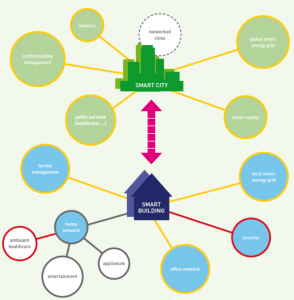 The project is aimed at developing an integration and coordination platform for urban systems to build applications across urban systems, provide adaptive and cooperative control for urban subsystems, and to optimize the combined performance.
view site
2016–2018 Upgrade of the optimization system for steel continuous casting
B. Filipič. Zupančič, T. TušarJ
In this applied project, a simulation-based multiobjective optimization software was developed to support continuous casting of steel on a new casting device at the Štore Steel plant. It considers the manufacturing process parameters, such as the casting temperature, casting speed and coolant flows as optimization variables, and deviations from the target values of the process output variables as optimization objectives. The output variables involved in the optimization are the solid shell thickness, the metallurgical length and the surface temperature of the cast steel. The optimization software is based on an evolutionary multiobjective optimization algorithm and interactively searches for the approximation of the Pareto-optimal front that represents trade-offs between the optimization objectives. An important software functionality is the visualization of solutions that allows the users to visually inspect and compare the solutions. The software is installed at the plant and used as a tool for achieving higher product quality.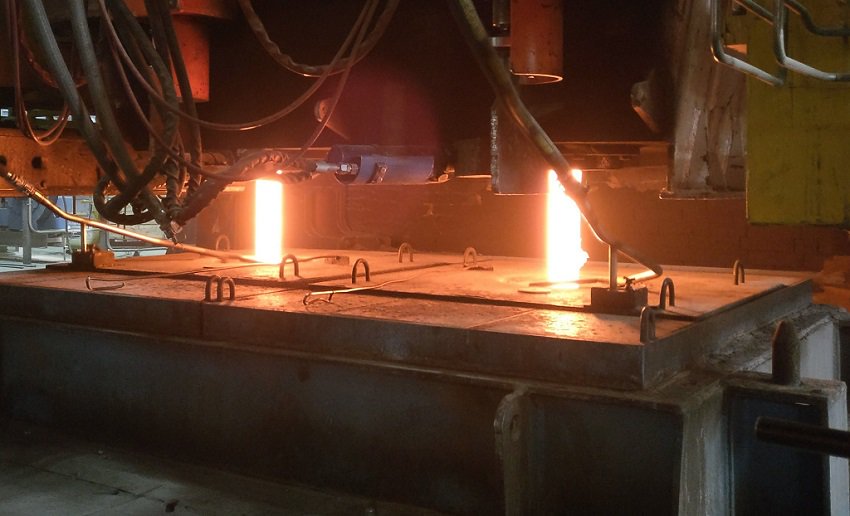 2016–2018 Advanced methodology of evolutionary multi- and many-objective optimization for real-world applications
B. Filipič, T. Tušar, E. Dovgan, J. Zupančič
The goal of this collaboration between Japanese and Slovenian researchers was to advance the methodology of evolutionary multi- and many-objective optimization for real-world applications. It considered three important topics: (1) state-of-the-art evolutionary algorithms design and development, (2) surrogate models and visualization tools, and (3) real-world applications. Unlike most other research efforts, our research unified these approaches to effectively tackle the problems observed in complex application domains that are multi- and many-objective, computationally expensive, require surrogate models, and benefit from domain knowledge. The focus of the joint research was on optimization and visualization in many-objective space trajectory design.
2013–2016: COPCAMS – COgnitive & Perceptive CAMeraS
B. Filipič, E. Dovgan, T. Tušar
The COPCAMS project leveraged recent advances in embedded computing platforms to design, prototype and field-test full large scale vision systems. It aimed at exploiting many-core programmable accelerator platforms to power a new generation of vision related devices (smart cameras and gateways) able to extract relevant information from captured images and autonomously react to the sensed environment by interoperating at large scale in a distributed manner.
view site
2011–2014: CHIRON – Cyclic and person-centric Health management: Integrated appRoach for hOme, mobile and clinical eNvironments
M. Luštrek, B. Cvetković, S. Kozina, H. Gjoreski, R. Piltaver
The project will develop an integrated framework for personalized healthcare at home, in a nomadic environment and in the hospital. A patient is equipped with wearable sensors, which continuously monitor his condition. The sensors are connected to a smartphone, which issues warnings and advises the patient based on a personalized health assessment model. The data from the sensors, together with the data from the patient's health record and novel medical imaging solutions, is accessible to medical professionals. Their work is supported by an advanced health assessment model, which is continuously modified by incoming data and experts' input. Our department is developing this system, as well as activity recognition and human energy expenditure estimation methods for patient monitoring. view site
2011–2014: Advanced modeling and simulation of liquid-solid process
B. Filipič, T. Tušar, M. Mlakar
The goal of this research project was to enhance the physical modeling capabilities and development of numerical methods for liquid-solid processes. Our participation in the project was focused on optimization of the alloy solidification process where the task is to determine process parameters such that the required structure of the material is obtained in the shortest possible time. Using an evolutionary multiobjective algorithm coupled with a process simulator, we minimized the concentration and structural inhomogeneities in the solidifying material and the duration of the solidification process by influencing the cooling process dynamics. Dealing with this problem was a source of motivation for our work on improving the multiobjective optimization methodology by involving surrogate models and visualizing the results, while the produced results are of practical importance for metallurgical production. The project was funded by the Slovenian Research Agency.
2010–2014: Simulation and optimization of casting, rolling and heat treatment processes for competitive production of topmost steels
B. Filipič, T. Tušar, M. Mlakar
Funded by the Slovenian Research Agency and co-funded by the Štore Steel company, this project was dealing with multiscale through-process modeling of the steel production sequence consisting of continuous casting, rolling, and heat treatment. Our role in the project was to formulate and provide a tool for solving the problem of tuning the process parameter settings for continuous casting to result in the highest possible quality of cast steel. We designed and implemented a program that accepts boundary constraints and discretization steps of the considered process parameters, and boundary constraints and target values of the selected metallurgical criteria as input. Since the criteria are conflicting, the program returns a set of trade-off solutions according to the principles of multiobjective optimization and displays them in parallel coordinates. Optimization is carried out using the DEMO (Differential Evolution for Multiobjective Optimization) algorithm, and the solutions are evaluated via an external numerical simulator of the casting process. The program is in use in the Štore Steel company.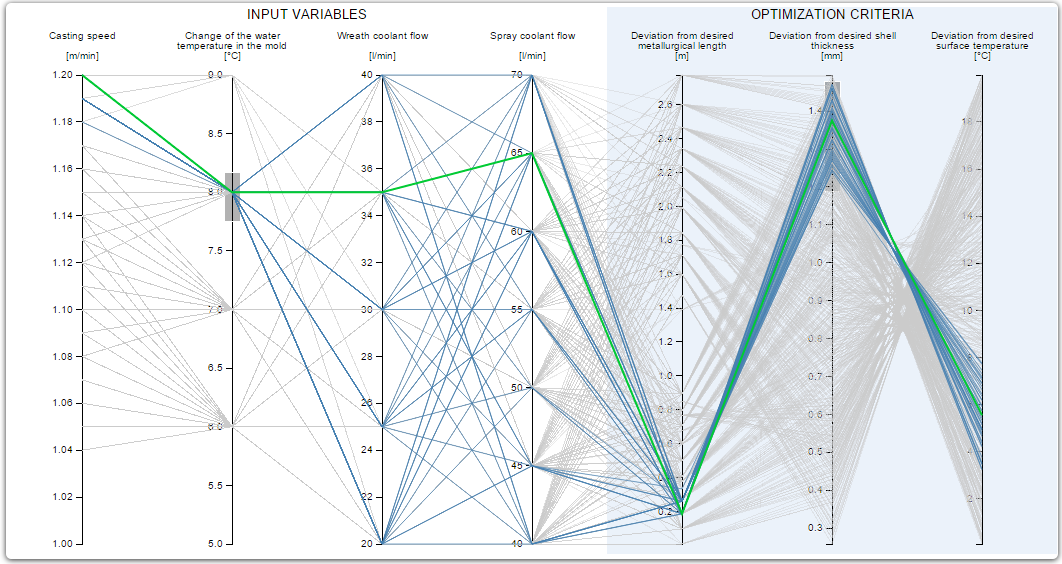 2012–2013: e-Turist – The easiest way to plan your perfect trip
M. Luštrek, B. Kaluža, B. Cvetković, H. Gjoreski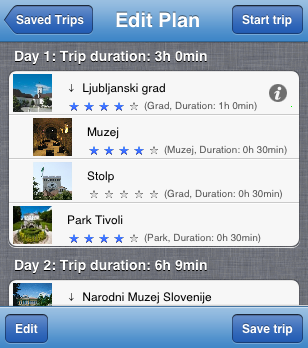 E-Turist is a mobile application that will attempt to provide a tourist with an experience comparable to that offered by a professional tour guide, but tailored specifically to him/her. The tourist will enter his interests, the available time and any special requirements he/she may have. Based on these, the application prepares a personalized sightseeing program using a recommender system. Afterwards, the application guides the tourist using the GPS, providing a multilingual description accompanied by photos. The description will be available on the mobile phone screen and via synthesized voice. The tourist may comment and rate each sight, which is then used by the recommendar system and tourism workers to improve their services. The mobile application is accmpanied by a web application through which tourism workers may enter information on sights of interest and track the activity of their visitors.
2012–2013: e-Pedius – Crowdsourcing support for the reassembly of wall-painting fragments
B. Filipič, T. Tušar, E. Dovgan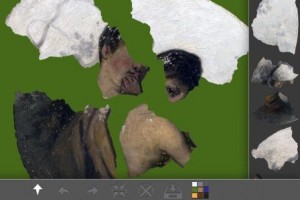 Following the award-winning Pedius project, e-Pedius employs crowdsourcing for the reassembly of digitalized wall painting fragments. Implemented in the form of a web and mobile game (for iOS, Android and Windows tablets), e-Pedius engages users with an affinity for solving jigsaw puzzles in the Slovene cultural heritage preservation process. Leader boards, achievements and the possibility to continue compositions from other users encourage users to compete as well as collaborate in order to achieve the final goal – reassembly of all fragmented wall paintings.
view site
2012–2013: e-Assistant
M. Gams, D. Kužnar, A. Tavčar, B. Pogorelc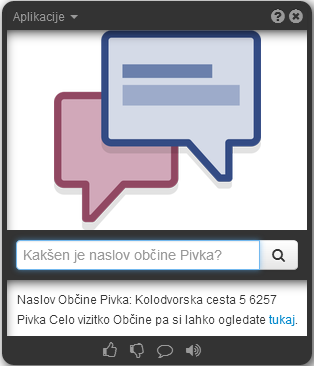 Na javnem razpisu za sofinanciranje projektov razvoja e-storitev in mobilnih aplikacij za javne in zasebne neprofitne organizacije 2012-13 je bil sprejet projekt Asistent, v katerem sodelujemo kot partnerji. Cilj projekta je vzpostavitev spletne storitve za brezplačno izdelavo in urejanje prilagojenega virtualnega asistenta, ki bo sposoben odgovarjanja na vprašanja uporabnikov v naravnem jeziku. Društva in občine si bodo lahko storitev brezplačno namestile na svoje spletne strani ali ponudile v obliki aplikacije za mobilne telefone. Več informacij je dosegljivih na spletnem naslovu e-Asistent.
2010–2013: EUSAS – European Urban Simulation for Asymmetric Scenarios
A. Tavčar, D. Kužnar, E. Dovgan, V. Mirchevska, B. Mahnič
The main objective of the EUSAS project is to develop methods for multi-agent modeling of asymetric conflicts. The aim is to develop a new approach to mission analysis and training for low level units facing asymmetric threats in an urban environment. Our task is to discover the common agent strategy by knowing only low-level agent behaviour and basic domain knowledge. Moreover, the objective is to transfer some of the observed behaviour patterns into highly realistic and reusable models of human behaviour in riots. The constructed models will be later used in simulations to provide a more realistic behaviour for training peace-keeping personnel.
2010–2013: MIRABEL – Micro-Request-Based Aggregation, Forecasting and Scheduling of Energy Demand, Supply and Distribution
B. Filipič, T. Tušar, E. Dovgan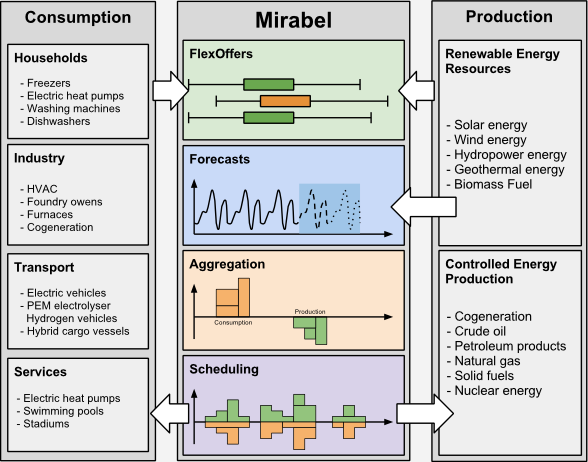 Supported by the European Commission's Seventh Framework Programme (FP7), this project was aimed at developing a conceptual and infrastructual approach that allows energy distribution companies to efficiently manage higher amounts of renewable energy and balance energy supply and demand. Specifically, we worked on a concept of micro-requests with time shifts to handle the demand and supply of energy on a household level. Further, we defined methods to predict the energy supply and demand in the small (i.e., for households) and in the large and to update predictions over time. We aggregated (and disaggregated) the micro-requests on a regional level, and we developed a scheduling approach for energy production and consumption based on aggregated requests.
2008–2011: CONFIDENCE – Ubiquitous Care System to Support Independent Living
M. Gams, B. Kaluža, M. Luštrek, V. Mirchevska, R. Piltaver, E. Dovgan, B. Cvetković, B. Pogorelc, B. Strle, L. Jelenkovič, D. Kužnar
The main objective of project Confidence (Ubiquitous Care System to Support Independent Living) is the development and integration of innovative technologies to build a care system for the detection of abnormal events (such as falls) or unexpected behaviours that may be related to a health problem in elderly people. view site
2010–2011: Pedius
B. Filipič, M. Mlakar, E. Dovgan, T. Tušar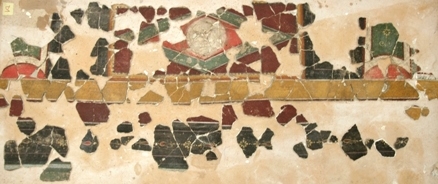 The goal of the project for the Restoration centre of the Institute for the Protection of Cultural Heritage of Slovenia was to develop computer-aided support for restoration of wall paintings from fragments. We developed a system called Pedius that enables digitalization, recording and assistance in putting the fragments together to form the original wall painting. The system considerably shortens the time needed for restoration and prevents further damage to the fragments.
view site
2009–2010: UVID – Universal Interface for Intelligent Home (Univerzalni vmesnik za inteligentni dom)
M. Gams, M. Ožek, D. Kužnar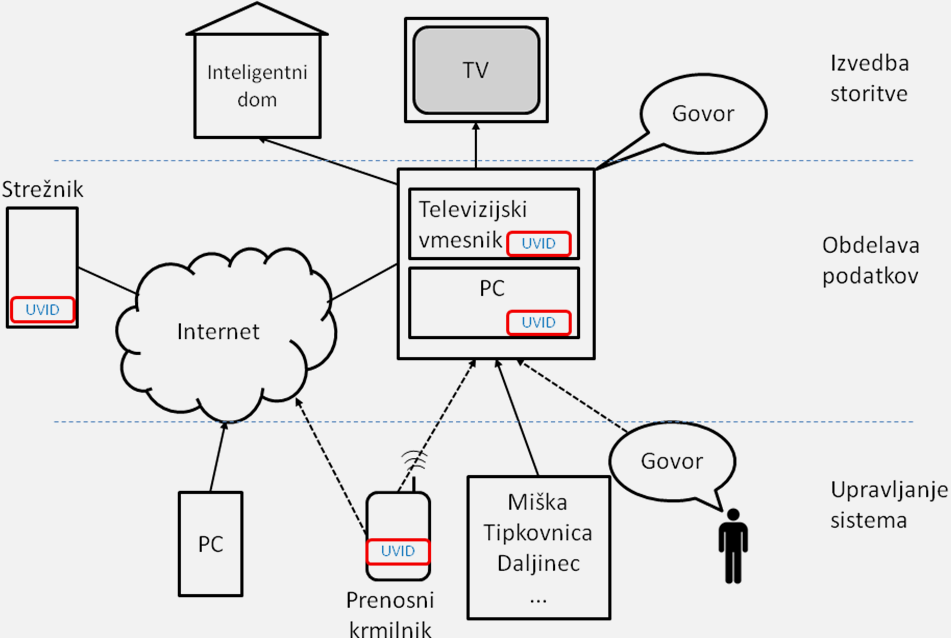 UVID is a project financed partially by Slovenia and partly by EU. In collaboration with Špica, Amebis and Iskratel we are developing new intelligent interface for management of home entertainment appliances.
2009–2010: i-lab – Intelligent laboratory system for healthcare (Inteligentni informacijski sistem laboratorijev v zdravstvu)
M. Gams, D. Marinčič, R. Piltaver, B. Mahnič, D. Kužnar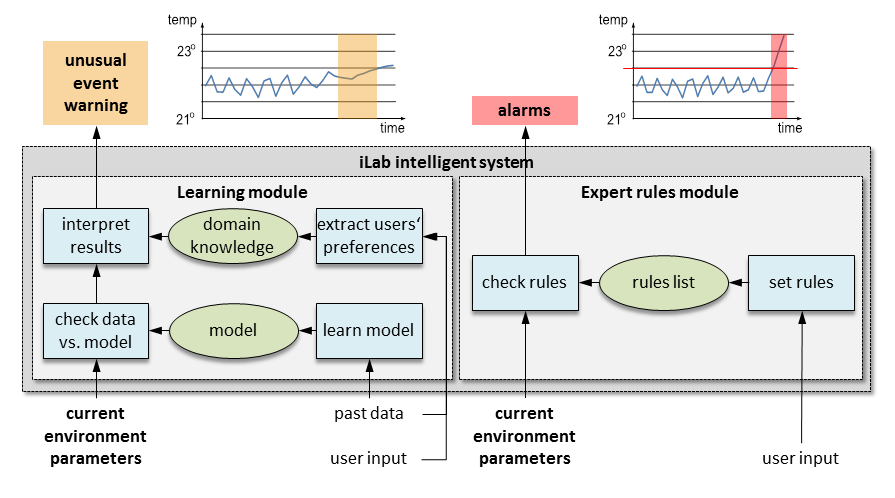 i-lab is a project financed partially by Slovenia and partly by EU. In collaboration with companies LOTRIČ laboratory for metrology d.o.o. and IMS MERILNI SISTEMI d.o.o. we developed an intelligent information system for health care laboratories. Our contribution to the project was an intelligent module that is capable of detecting anomalous operation of laboratory equipment with focus on the refrigeration systems. The main features of intelligent module are intelligent laboratory equipment monitoring and quality prediction of laboratory samples which are both based on anomalous event detection from environment parameters data streams (e.g. temperature, humidity). In 2011 the project was awarded with TARAS at the 3rd Industrial Forum of Innovation, R&D and Technology (IRT) for successful collaboration between research institution and industry.
2007–2010: PDR – Commanders right hand (Poveljnikova desna roka)
M. Gams, R. Piltaver, E. Dovgan, B. Pogorelc
Commanders right hand is a Targeted Research Project financed by the goal research program "Science for security and peace 2006 – 2010" in collaboration with Špica d.o.o., Faculty of Electrical Engineering and Slovenian Ministry of Defense. The project begun in April 2007 and will last until December 2009. The goal of the project is to prepare a prototype of intelligent system for surveillance of movement of personnel and equipment that will alarm the commander about unusual and forbidden activities and will enable centralized overview of monitored environment and analysis of past events. Tagging of all personnel and important equipment with tags that enable real-time localization with high accuracy in connection with intelligent video surveillance will enable the system to learn about the usual behavior and to recognize the unusual behavior while the expert system module will enable a simple way of specifying prohibited behavior. The Commanders Right Hand intelligent system will be able to alarm the commander about terrorist attacks, sabotages, thefts, staff negligence and insubordination, fire in the building and similar incidents. Video demonstrations: overall system demonstration, video module, statistics & macro modules and fuzzy logic.
2007–2009: IHT – Intelligent Home Telekom
M. Gams, M. Ožek, R. Blatnik
Within »Intelligent home Telekom« project we have developed a universal virtual interface for interactive user communication in various services and applications of the national telecom operator Telekom Slovenije. The virtual interface is implemented in a web-based intelligent conversational robot prototype and is experimentally available at https://www.ijs.si. The conversational robot interactively answers visitors' questions in natural language. The main advantage of our virtual user interface over similar commercially available applications is its adaptability for quick implementation in various applications where any kind of user interaction takes place, such as television, telemedicine, technical support help desks, web portals, etc. Applied research project was founded by the Slovenian government and partly financed by the Slovenian national telecom operator Telekom Slovenije, d.d.
2007–2008: PAT Implementation
M. Gams, M. Ožek, J. Krivec, T. Tušar
Process Analytical Technology (PAT) is a system for designing, analyzing and controlling manufacturing through timely measurements of critical quality and performance attributes of materials and processes, with the goal of ensuring final product quality. The goal for the PAT Implementation project for the Slovene pharmaceutical company Lek (part of Sandoz) was to achieve higher flexibility, better understanding and efficient control of the tablet-manufacturing process. For this purpose we designed and implemented a new method for process analysis as well as an application for process visualization and modeling. This contributed to a better understanding of the manufacturing process and achieving a higher quality for the produced tablets.
2006–2007: CIVaBiS- Intelligent Biometric Access Control System
M. Gams, T. Tušar, E. Dovgan, B. Kaluža, A. Tavčar, J. Krivec, A. Bežek
Targeted Research Project was founded by the Slovenian Ministry of Defence and partly by the Slovenian Research Agency.
Biometric and smart card access points are increasingly becoming equipped with additional input sensors, integrated intelligent video surveillance systems and advanced intelligent methods that learn from experience. We have designed a flexible modular system based on integration of arbitrary access control sensors and an arbitrary number of stand-alone modules. The system was tested with four sensors (door sensor, identity card reader, fingerprint reader, camera) and four independent modules (expert-defined rules, micro learning, macro learning and visual learning). Preliminary tests of the designed prototype show encouraging results and justifies integration of intelligent detection of unusual behavior in future access control systems for intelligent homes, industry facilities, offices, hospitals, military campuses etc.
2006–2008: We-Go – Enhancing Western Balkan eGovernment Expertise
M. Gams, V. Vidulin, A. Pivk

The main objective of the FP6 CA project We-Go was to enable public administration in Western Balkan Countries to reach higher productivity and equity by first establishing of an "We-Go" Interoperability Framework with focus on transactional cross-border services and providing best practices for corresponding transactional application domains delivered as trial prototypes in order to enable follow-up implementation projects; second, by establishing "We-Go" Academies offering training courses as accompanying measures for the selected applications as well as foundation for future regional eGovernment course program deployments; third, by establishing of an "We-Go" Knowledge Net built by a system of federated registries which will ensure sustainability and further improvements beyond the end of the project. Services that were addressed by the project included eCustoms – New Computerised Transit System, eFinance – VAT Information Exchange System, eJustice cross border cases – Automation of Court Procedures, European Companies Register and European Land Information System, eAdministration – Electronic Filing System and eTrade Facilitation for European waste transport.
Together with partners from Austria and Estonia, our role was to gather the best eGovernment practices and to transfer them to the Western Balkan Countries.
2004–2006: Alvis – Superpeer Semantic Search Engine
M. Gams, V. Vidulin, M. Luštrek, A. Pivk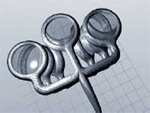 ALVIS was FP6 STREP project that conducted research in the design, use and interoperability of topic-specific search engines with the goal to develop an open source prototype of a distributed, semantic-based search engine. Our role in the project was to develop a prototype of genre classifier, which classifies web pages into categories such as, e.g., blog, frequently asked questions, shopping. The classifier was implemented in the search engine, where it enabled the user to search the pages not only by specifying their content (e.g., with the keyword "iPhone"), but also by specifying their genres (e.g., by specifying genre "shopping", pages with reviews and subjective comments are excluded). In this manner, the engine returns a set of pages that are closer to user's interests than the pages returned by the keyword-based search engines.
2004–2006: WINDECT – Wireless Local Area Network with Integration of Professional-Quality DECT Telephony
M. Špegel, P. Reinhardt, R. Blatnik
WINDECT is a novel approach to merge wireless networks by integrating professional quality telephony into WLANs to get high quality "voice over WLAN". The result is an innovative application in the field of wireless and mobile communications. Our contribution in the project was development and construction of a research test-bed for metricsbased testing of the quality of voice communication in VoWLAN/VoIP communications. The measurements using this test-bed have provided determination of PESQ MOS, delay, jitter and packet loss derived from the analysis of analogue voice signal as well as voice packet streams. A handover tests were also performed by emulation of mobile phone's roaming using hand attenuation of RF signals in so called »open air« from involved two access points. In the final phase of the project the test-bed was used for the performance evaluation of WINDECT-enabled mobile phones and access points in the form of demonstrator environment. The results confirm the advanages of the WINDECT approach over standard VoIP/WLAN solutions are achievable in practice. Here is the web site of the project.